Pack Lite Saw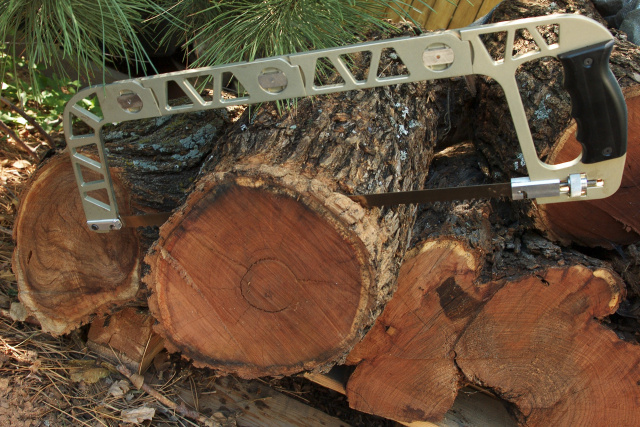 At just under one pound, the Pack Lite Saw is light enough to include in your heaviest pack, or to wear on your belt. It comes apart and fits into a 6"x9" carry case, that can be stowed nearly anywhere, including a glove compartment of a car, truck, plane, or snowmobile. It can be fitted with blades ideal for cutting dry wood, green wood, or meat/bone. The pack Lite Saw is the perfect pack saw for RV's, 4 wheel/off road enthusiasts, rafters, hikers, back packers, campers, hunters, law enforcement, search and rescue, or anyone who needs a light weight, packable saw, with full size saw capabilities.
Full Size Saw in a Small Pack
Our design creates a strong frame that packs into a small space. Standard length frame fits a 17 inch blade with a 6 inch throat depth, allowing you to cut up to a 12 inch log. Additional frame sections will allow even longer blades. The quick adjusting spin wheel allows for proper tension adjustments and quick blade changes.
Versatile
The modular design makes for easy packing into the padded zip case.The case has both carry handles and loops if you prefer belt carry. Additional frame modules allow for installation of longer blades for larger sawing jobs. Blades are available in different tooth configurations optimized to cut green wood, dry wood, or bone/meat.
Light and Strong
The Pack Lite Saw is constructed of 7075 aircraft quality aluminum, anodized for long term surface and corrosion protection. Total weight of the saw with blade installed is just under one pound. The rigid frame design supports proper blade tension for efficient cuts. Handles are ergonomically designed for a solid comfortable grip with or without gloves.